Vintage Fur Collars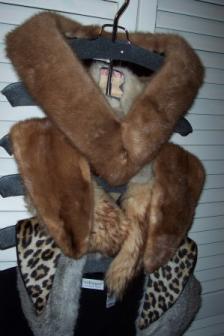 Your choice in fun faux fur and fur. Described below. All in excellent condition ready to wear. These chic wintry collars will last another 100 years. Enjoy on your jackets and coats and sweaters anytime.
Shown top to bottom of three collars
#1.354 camel shearling, 35Lx4w lined in black, #2.3400 brown animal print faux, 29Lx4w lined in black, #3.406 gray rabbit, 27Lx5w lined in black
Shown top to bottom of two collars,
#4.2951 silver gray mink, 24Lx3.5w lined in cream wool flannel, #5.3008 light ashe mink, 32Lx5w lined in brown.